天地間之動與靜、音與律 ; 時空間之交錯、去與留 , 穿梭於有形無形間 , 渲染人生春夏秋冬。
Between heaven and earth, dynamics and statics, sounds and rhythms all intertwine in different time and space to present movements and music for the four seasons of life.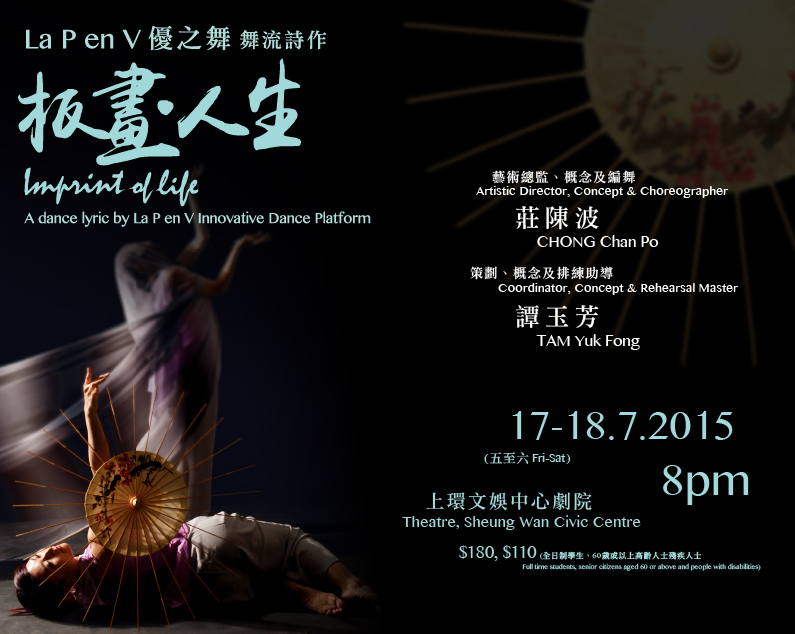 《初雪赤心》
枯葉凋零遍滿地,皚雪飛絮遍漫天,雪魄留跡內裏尋,霜花霏霏淨赤心⋯⋯
2013 年獲香港舞蹈總會委約為《香港舞蹈博覽2013》創編中型節目;同年獲邀參加捷克Pardubice舉辦之International Festival Jazz Dance Open 2013 之演出及比賽,榮獲評委獎及觀眾獎兩項第一。
Naked Soul
Withering leaves scattered all over, and snowflakes swirling in the sky like hovering over the naked soul – what a heart-purifying experience……
The dance piece "Naked Soul" has been invited by the Hong Kong Dance Federation to take part in the "2013 Hong Kong Dance Expo" for commissioned choreography and performances. Also, this piece has won the highest honour Jury Prize and Audience Prize in the "2013 International Festival Jazz Dance Open" organised by the Czech city, Pardubice in Czech Republic.
《夢雨》
自在飛花輕似夢,無邊絲雨細如愁,恰似雨灑甘霖,了無塵俗渣滓
節錄自:浣溪沙
作者:秦觀
Illusions in the Rain
Petals slowly drifting, light and dreamy
Drizzle gently falling, soft and dreary
Sprinkling from high above
Cleansing the soul
Leaving a sense of peace and serenity
《脈動》
現今世代,人際關係錯綜複雜,人的情感會否因時代的變遷和衝擊而產生劇變……經分裂、沉澱、復合而轉化成新的形態 ?
Pulse
Interpersonal relationship has become so entangled and complicated today. Are human emotions vulnerable to the rapid changes and challenges of life…breaking down, precipitating, coalescing and finally transforming into a new kind of expression?